Foire aux questions sur nos équipements de mise en canette
Here is your FAQ ! We will answer some of your most frequent questions about canning machine and the craft beverage industry. Don't hesitate to contact us for more !
Craft canning
  If you're considering a switch from glass bottles to aluminum cans for your beverages, here are a few reasons why aluminum cans might be the better choice:
Lightweight and Convenient: Aluminum cans are lighter and more easily portable, making them a great option for on-the-go activities such as picnics, camping, or outdoor sports.
Durable and Practical: Unlike glass bottles, aluminum cans are unbreakable and therefore more suitable for transportation and storage.
Eco-Friendly: Aluminum cans are 100% recyclable and can be recycled endlessly without losing their quality. This makes them a more environmentally responsible option compared to glass bottles, which are not as easily recyclable.
Freshness Guaranteed: Aluminum cans provide an airtight seal, which helps to keep beverages fresher for longer. This is especially important for carbonated drinks, which require the preservation of carbonation levels.
Economical: Aluminum cans are cheaper to produce and transport than glass bottles, making them a more cost-effective option for both manufacturers and consumers.
 
In North America, aluminum cans are a popular choice for packaging beverages due to their durability, lightweight, and recyclability. There are several sizes and types of beverage aluminum cans, each serving a different purpose and market segment. Here are the most commons beverage can sizes and types.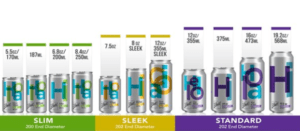 B64, CDL, Super End, and LOE are types of can ends that are commonly used for packaging beverages in aluminum cans. They differ in the design and construction of the can end, as well as the type of opening mechanism.
In the North American beverage industry, it is very common to see SLEEK, SLIM and STANDARD cans using a 200 or 202 size of can end.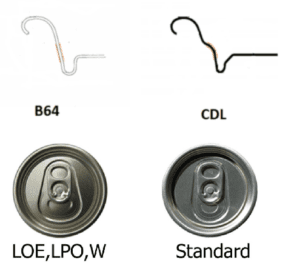 GX CANNING is a division of Géninox.